Loves and obsessions fail to stay in their own domain; somehow they always inch their way onto clothing racks. You have bands and musicians screen printed onto t-shirts, movie themed accessories, toys based on television shows and pop culture, the list goes on. Of course, food is no exception.
In 2008, you had the fabulous collaboration of Project Runway designers with Hershey to create
chocolatey couture
. In 2009, you had
Ted Sabarese's photographs
of clothing made completely out of food
(shown above)
. In 2010 you had... Lady Gaga's
meat dress
. 2013 marked the return of food back into the world of fashion, in a less perishable manner– food prints.
Food prints have been recently spotted in the designs of brands such as DKNY, Black Milk and even Etsy sellers. Beware though. Take extra caution with these statement pieces! Like with any
bold print
, it's best to even them out simple and basic pairings. Overdoing it can turn your outfit from yummy to last night's leftovers.
Here are some awesome food printed pieces to check out.
Sweater weather isn't quite here yet but hey, why not get a head start? Especially with this gummy garment. Thought these kinds of sweaters were only photoshopped images on tumblr? So did I. Until I discovered
Shelfies
. This new online company produces sick sweaters and t-shirts. You can even use your own custom images! A lot of their designs are currently on sale so check out their other impressive food related
sweaters and t-shirts
. My favourite is the
(sold out)
mixed berries sweater
. And this hilarious
sloth
one.
Want something a bit more subtle? This silky chiffon print skater skirt will add a touch of sugar to your summer. The colourful sketched candies give a off a vintage french vibe. Though this skirt can be extremely sweet with a pastel top and sandals, I love how ASOS toughened it up with some wedged boots and a plain black tee.
Is summer getting too hot for you? Take a dip in the pool with these super cool (pun intended) popsicles. Just look at those cute facial expressions. How can you pass on these? Notorious for their prints, Black Milk has a large range of other food prints and pieces such as leggings, dresses, body and swim suits, etc. New designs are added quite regularly as well. On the downside, they can run a bit pricey and tend to sell out pretty quick.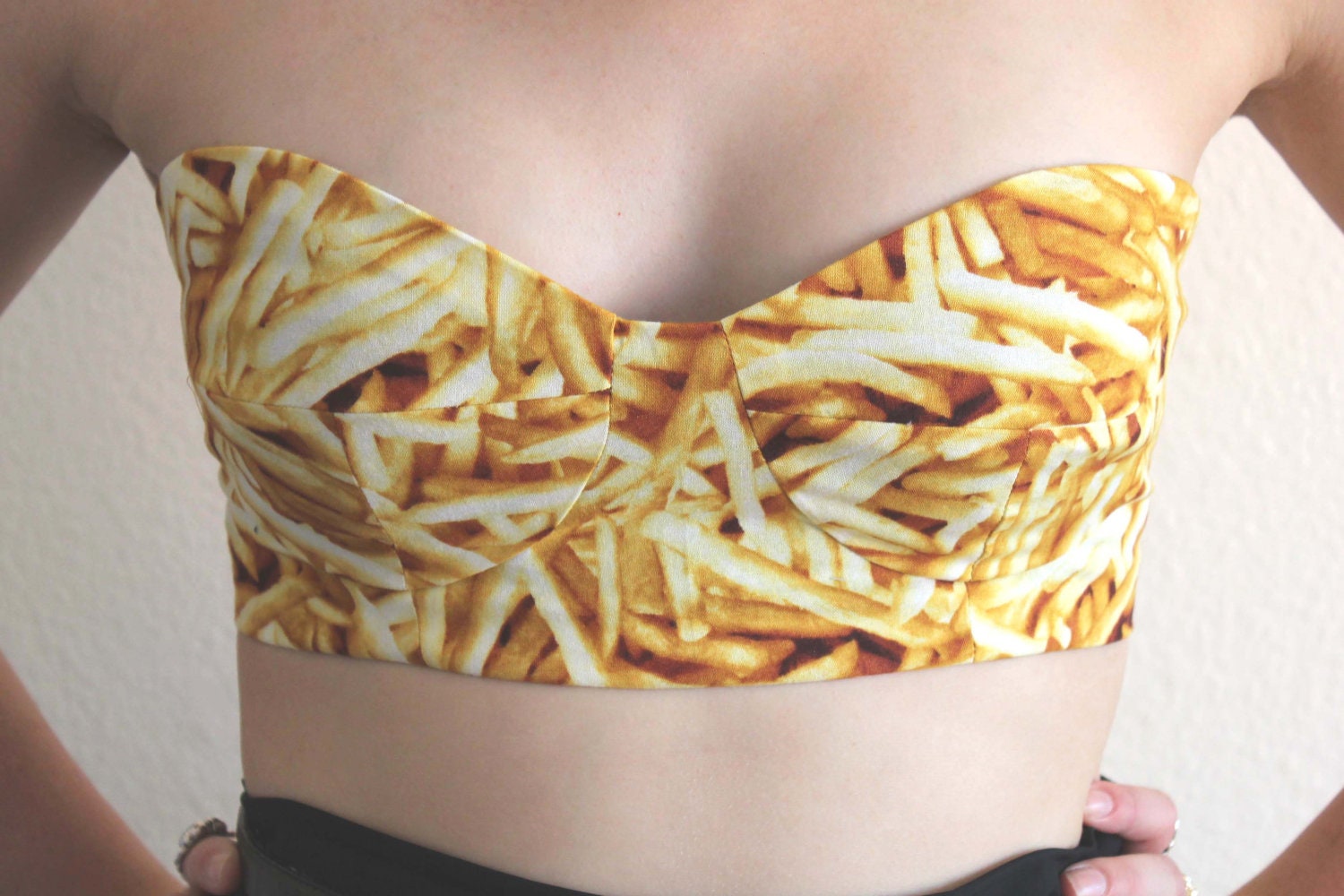 Yes, it's a good idea to cut these fried devils out of your
diet
, but that doesn't mean you can't enjoy them in a different form. With the current trend of bustiers, this here is a two birds, one stone winner. Made to order on Etsy by
Showboat Clothing
, you won't have to worry about sizing. Straps and padding are also available if you need a little lift. If greasy fries aren't exactly your cup of tea, there are also
banana
and
watermelon
prints for you fruity folk.
Apples and New York are practically synonymous to DKNY. Besides having lovely apple themed perfumes, this white printed tote is to die for. The red accents contrast well against the black apple outlines and the white background, giving a subtle hint of colour. With dimensions of 31 centimetres wide, 26 tall and 14 deep, this is the perfect shopping and travelling companion.
Are you daring enough to rock food prints? Or do you think this trend is a no go?
-Iz